Have you ever heard of Ansel Adams? You should have. He is a world famous American Photographer and Environmentalist who is best known for his Black and White photographs of the American West and Yosemite National Park in California. Adams was drawn to nature at a very young age and joined the Yosemite Sierra Club, where he would hike, climb and explore with a camera in hand from 1916 all the way to his death at the age of 82. Adams elevated photography to monumental heights by creating beautiful photographs of vast landscapes. His photos take on an almost dream-like quality that are characterized by incredible sharpness and depth. Most people have seen at least one Ansel Adams photograph in their life, as his shots have been widely reproduced and utilized in posters and calenders around the world. Adams believed in the possibility that human kind could live in harmony with the environment. His larger than life images show just how magnificent the natural world is; at times evoking feelings of insignificance and tranquility in comparison to the supremacy of nature. Ansel Adams is a major influence not just in my art but also in my life, and hopefully he can be one in yours too.
"Road-Nevada Desert"

"Moonrise"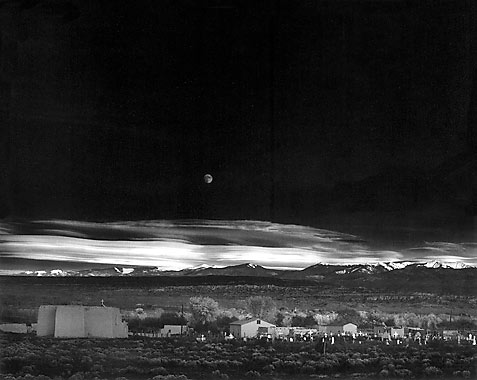 "Mt. Mckinley"
Click the
jump
to check out more Ansel Adams photographs on Google Images
Taking the inspiration that I have recieved by Adams, I reviewed some photos that were taken during a vacation to Fairmont, British Columbia and decided to make them black and white. It is not simple to replicate the look and feel of black and white film but here is my attempt at contemporary digital impressions on Ansel Adams' work. A shoutout goes to Luke for taking the first photo while I was driving through the Kootenay Mountains. Remember to love your Mother! Enjoy.
stv.