The weather has been getting better in Calgary, and while it has been rather inconsistent, I've been riding my two wheeled machine(s) as often as I can. Lolita, aka. The Green Bullet, has been my ride of choice lately. She's my beat around the city frame, her single speed transmission makes for ease of use and little to no maintenance. I built her up last year from random parts and painted her with some rattle can Krylon paint.
In just under a year, I have gotten some great use out of her, however, now that she has some
"nu shooz"
on order I'm starting to feel like it's time I move on to a more agressive track frame. Don't get me wrong; Lolita is fast as hell, an agile climber and offers a fairly comfy ride. It's just that the long wheel base makes her a wee bit clumsy around the corners and in traffic. So, I've been doing my reserach online for a new frame and I've been looking mainly at steel track frames. It is tax return time, and I think a track frame would make a great graduation gift (can't blame me for trying)! Anyways, here are a few that have caught my eye:
Surly Steamroller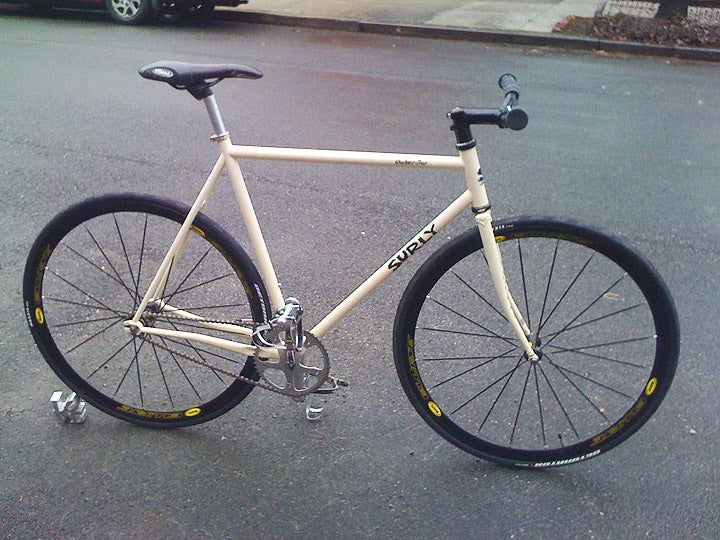 One of the more accessible and cheaper frames that I can find, the Steamroller is a more practical and versitile frame that allows for bigger tires and fenders. The frame lacks the true track geometry, but is still fairly agressive.
Samson NJS
Made in Japan and was a
Keirin Race
staple in the early 90's, the Samson steel lugged frame is quite the rare find, but isn't she a beaut?!
Cinelli Gazzetta
Brand new for 2010, the Gazzetta is an entry/street level pista offering from the Italian frame builder. It's affordable, probably easier to get and comes in green and yellow! Yeah, it's silly to shop for colour.
Ciocc Enemy Pursuit
This bike in particular is famous because it's owned by one of the members of the
MASH SF Crew
. Unfortunately for me, it will remain a pipe dream. Super agressive though, and that has a lot to do with the smaller 650c painted carbon Zipp wheel up front. *sigh*
Brooklyn Machine Works Gangsta Track
Another one of my dreak bikes, the BMW Gangsta has a very interesting geometry, as the seat tube is leaning way back over the rear wheel. Opting for a BMX stem, bars, and freestyle forks this frame seems fit to do bar spins or sprints. Street cred.
Truthfully, I could probably only afford the Steamroller or the Gazzetta, but it's nice to dream. I'm not too sure when I'll actually start shopping for a new frame, but in the meantime I'll be lovingly pushing on Lolita.
Loves,
stv